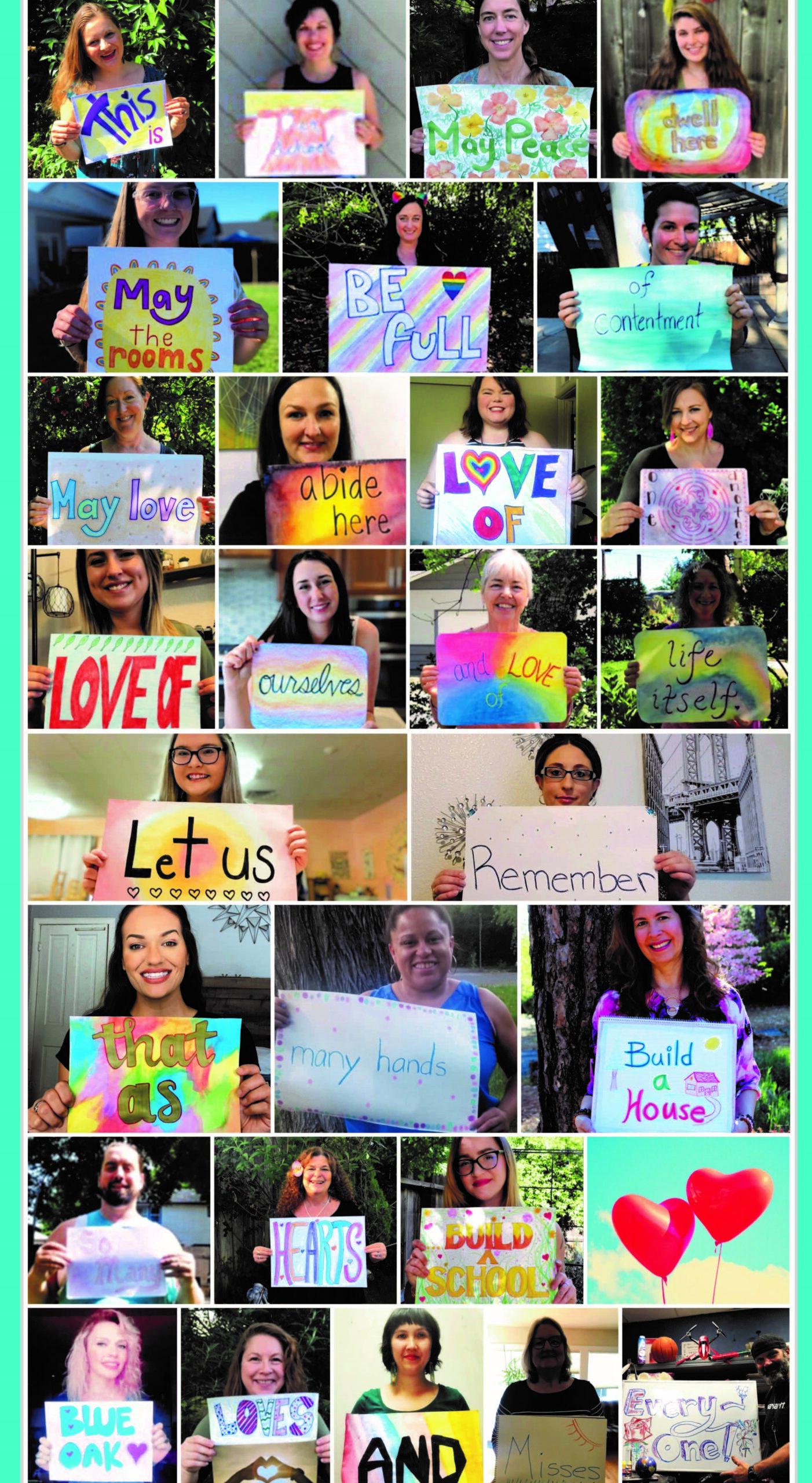 Above is a collage of our school verse made by Blue Oak Staff in March of 2020.
To be a model for the successful education of the whole child.
To nurture and deepen each child's academic and creative capacities using methods inspired by Waldorf education in a public school setting.
⦁ To inspire children to grow and learn by using a developmentally based curriculum, active learning, integration of the arts, and rigorous academic instruction that aligns with state standards.
⦁ To prepare children for active and ethical citizenship by using instruction that measures and guides critical thinking, self-awareness, intellectual curiosity, creative imagination, and social responsibility.
⦁ To enable each student to demonstrate proficiency in English-Language Arts, mathematics, science, and social sciences.
⦁ To ensure a comprehensive and complete education for students in each year of enrollment, such that students who leave Blue Oak will be well prepared to attend any school they choose and students who join Blue Oak at any grade level will be welcomed and supported in their transition into our program.
⦁ To prepare students to transition into High School, as creative and engaged adolescents.
⦁ To develop a lifelong love of learning by honoring daily and seasonal rhythms and by teaching subject matter when children are at the appropriate developmental stage for learning.
⦁ To enable pupils to become or remain self-motivated, competent and lifelong learners.
⦁ To attract, develop, and retain highly-effective, adaptable faculty, staff, and administrators
⦁ To foster a strong community of parents, teachers, and staff, who collaborate to create a supportive and healthy Blue Oak School learning environment.
"This is our school. May peace dwell here. May the rooms be full of contentment. May love abide here, love of one another, love of our school, and love of life itself. Let us remember, that as many hands build a house, so many hearts build a school."
School Verse - American Sign Language
Blue Oak has been serving our community since 2001. The idea of the school began in 1998 with a group of community members, including Kindergarten Teacher Susan Whittlesey. During the years that followed, the school's charter was drafted and submitted to the Butte County Office of Education. Our charter was approved in August of 2001 by the Butte County Office of Education and the Blue Oak Charter School was born!
In our first year, we consisted of one class of Kindergartners, Teacher Susan, an aide, a part-time director and the Charter Council. Each year, our school has seen one additional grade added and our staff has grown. In 2006-2007, we added a second Kindergarten to accommodate the demand. The summer of 2010 witnessed the first graduating class of Blue Oak students from 8th grade, many of whom had attended from their first day of Kindergarten with Teacher Susan.