Re-Opening Safety Protocol:
To read about what safety procedures Blue Oak will be implementing upon the return of students on campus, please read the document below that was approved by the Blue Oak Charter Council on October 20th:
School Guidance:
Technology Resources:
If you do not have access to the Internet, the following resources are available:
Comcast

– Offers free WiFi for 2 months to low-income familes plus all Xfinity hotspots are free to the public during this time.

Charter/Spectrum

– Free Internet offer for 2 months

AT&T

– Offers open hotspots, unlimited data to existing customers, and $10/month plans to low-income families

Sprint

– Provides unlimited data to existing customers, and allows all handsets to enable hotspots for 60 days at no extra charge.

T-Mobile

– Offers unlimited data to existing customers, and, coming soon, will allow all handsets to enable hot-spots for 60 days at no extra charge.
Counseling Resources
Amber Bass, Blue Oak Behavior Assistant

amber@blueoakcharterschool.org

Emma Todd, Blue Oak School Counselor

emmatodd@blueoakcharterschool.org

Marcia Ramstrom, Special Education Related Counselor

marciaramstrom@blueoakcharterschool.org

Butte County Crisis Services:

530-891-2810

National Suicide Prevention Lifeline:

800-273-8255
Grad and Go Lunches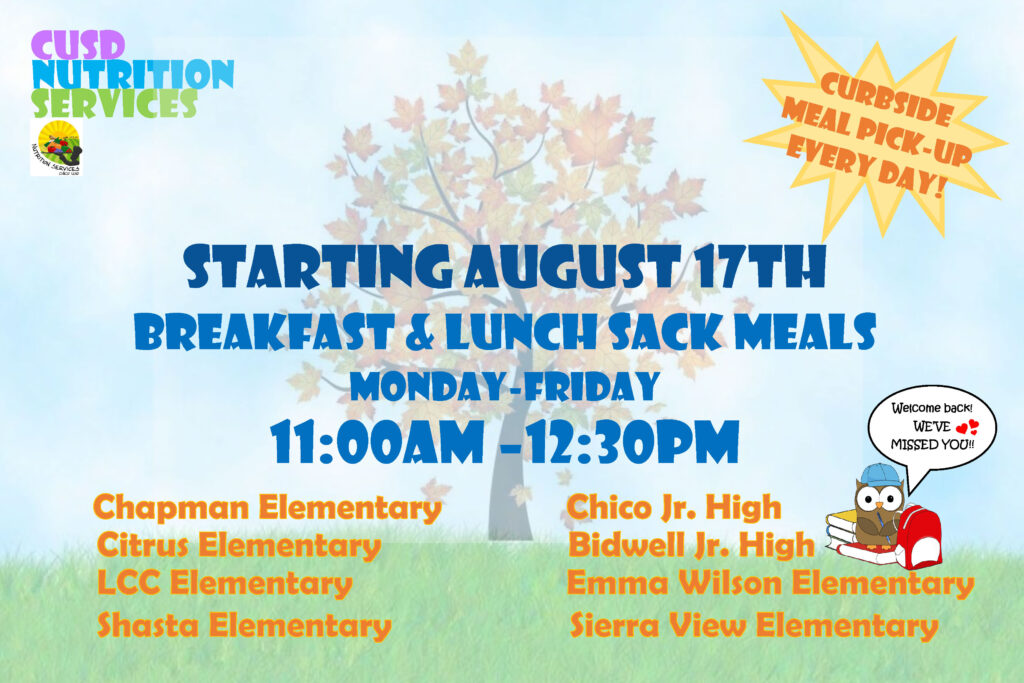 Chico Unified School District Nutrition Services will be providing FREE lunch to children 18 years and younger (they must be present to receive lunch). Lunch will be served from 11 a.m. – 12 p.m. at Bidwell Junior, Chico Junior, Chapman Elementary and Citrus Elementary Schools.
Butte County Office of Education, in direct response to school closures as a result of the COVID-19, is pleased to announce that during the closure, there will be an opportunity for families to pick up free "grab-and-go" meals at 26 locations throughout Butte County for children 18 and under through the end of the school year.
Essential Services Childcare
Based on need, CARD will operate emergency child care for children of parents working in sectors listed in the Essential Critical Infrastructure, outlined by the State of California due to the COVID-19 outbreak. Please do not reserve one of the limited emergency child care slots unless your family does not have any other care options.
Health and COVID-19 Updates
Employeement Needs