The Rhythm of Kindergarten and KinderCare
The rhythm of the Kindergarten and KinderCare day reflects the child's need for regular cycles of activity and quiet, a sense of "breathing out" (vigorous play or work) to "breathing in" (calm moments of storytelling or painting). Each Kindergarten has its own particular daily and weekly rhythm of food and activities.
Our regular Kindergarten day runs from 8:30AM to 12:30PM. We offer an extended day KinderCare program that runs from 12:30PM to 3:00PM run by Blue Oak for Kindergarten students. We also have an after school program from 3:00PM to 5:00PM run by CARD for our Blue Oak students grades K-5.
See an example of the Kindergarten rhythm below:
2022-23 TK – 5th birthday is between September 2, 2022 and February 2, 2023
2023-24 TK – 5th birthday is between September 2, 2023 and April 2, 2024
2024-25 TK – 5th birthday is between September 2, 2024 and June 2, 2025
2025-26 TK – 4th birthday is by September 1, 2025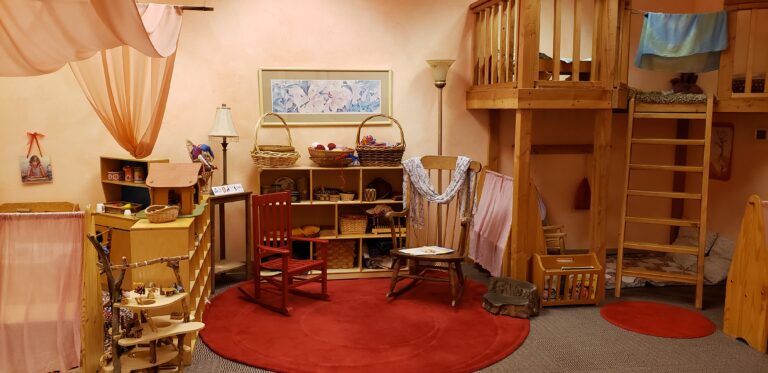 Preschool Program Development
Blue Oak is currently working to develop a Waldorf-inspired preschool. It is our hope to open the waitlist starting at the end of the 2022/2023 school year and to have the first class organized by the start of 2023/2024 school year. In order to help us develop a program that fits the needs of our community, please complete the survey below. 
The goal of our Blue Oak Preschool program is to….
— Provide preschool services on the same site as our TK-8th programs
— Create cohesion from preschool to Kindergarten
— Provide a nurturing environment for students to explore through play and hands on activities
–Lay foundations for socio-emotional skills
–Use of the arts as organic learning tools
–Create a space to practice kindergarten readiness
 Our Kindergarten program is based on an understanding of child development in which the child between birth and age seven develops and learns through imitation and imaginative play. We strive to deliver a "classical" education that is free from the influences of popular culture. Traditional values such as veneration, meaningful work, and imaginative play are cultivated in the Kindergarten. Our teaching challenges children to develop gradually their awakening capacities to think clearly, to feel fully, and to act freely.
The children's days are filled with both structured and unstructured activities. Bowing foremost to the power of play and the dynamic powers of imagination, the child builds the strong and sturdy foundations needed for later academic work. The Waldorf-inspired education provided by Blue Oak applies a more moderately paced approach to reading instruction and formal academics than traditional public schools. Below are some examples of what key features of the Waldorf methods that can be found in our Kindergarten classrooms.
Here are a few key features of the education methods used in a Blue Oak Kindergarten classroom: