On Thursday, March 5 we welcome George Hoffecker and Donna Burgess for a spirited Parent Education Night! George will speak about Why We Do What We Do in the Middle Grades followed by folk dancing led by Donna. It is sure to be an educational and fun filled night. You won't want to miss it! See George and Donna's bios below.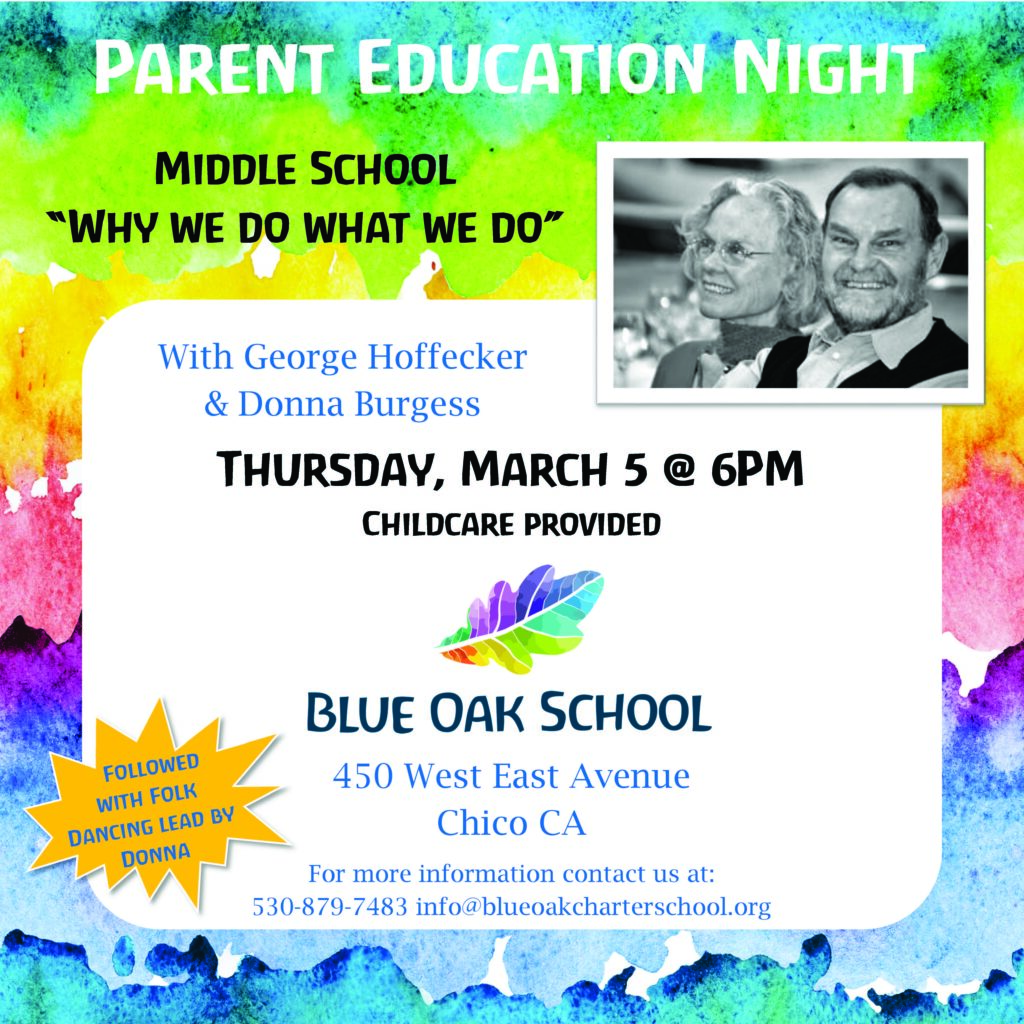 George Hoffecker Biographical Information:
George Hoffecker has been an educator for the past 49 years. He was a class teacher at Live Oak Waldorf School in Meadow Vista CA. for many years, principal of the first Waldorf inspired charter school in the nation, principal of a charter high school, Director of Charter School Services for an elementary school district and lecturer on Waldorf education at schools and communities throughout the West. He is a co-founder of The Alliance for Public Waldorf Education.
 For the past twenty years George has been working as an educational and organizational consultant. His work is informed by his training in Non-Violent Communication and mediation arising from NVC. Also central to George's practice is his training in Appreciative Inquiry originating from David Cooperrider of Case Western Reserve University, an inclusive, whole- systems approach to organizational transformation. He is co- founder and a principal of Hoffecker Burgess Consulting and for many years was an adjunct faculty member and guest lecturer at Rudolf Steiner College in Fair Oaks, CA.
Donna Burgess Biographical Information:
Donna Burgess began teaching international folk dance, Renaissance dance and ballroom dance at Live Oak Waldorf School in Meadow Vista 26 years ago. Over the years, she developed a dance curriculum designed to accompany Grades 3-8 in Waldorf schools and has recently published Volumes I and II of this curriculum in her series "Dancing Through School!. She is a guest teacher at many Waldorf schools and leads workshops for teachers and parents instructing them in how to bring the "Dancing Through School!" curriculum and highly successful teaching methods into their classrooms and home study cohorts.
In addition to being actively involved in four Waldorf schools as a parent, specialty teacher (dance and math), long term class teacher substitute, board member, class parent, and festival organizer, Donna has served on municipal and county advisory councils and in non-profit board and administrative work for the past twenty-six years. Her interest in building and sustaining healthy school, community, and non-profit organizations has led to ongoing study of theory and best practices in both organizational development and clear and compassionate communication. In partnership with George Hoffecker in Hoffecker Burgess Consulting, Donna mentors teachers, school administrators, board and charter council members, parent councils and school communities.