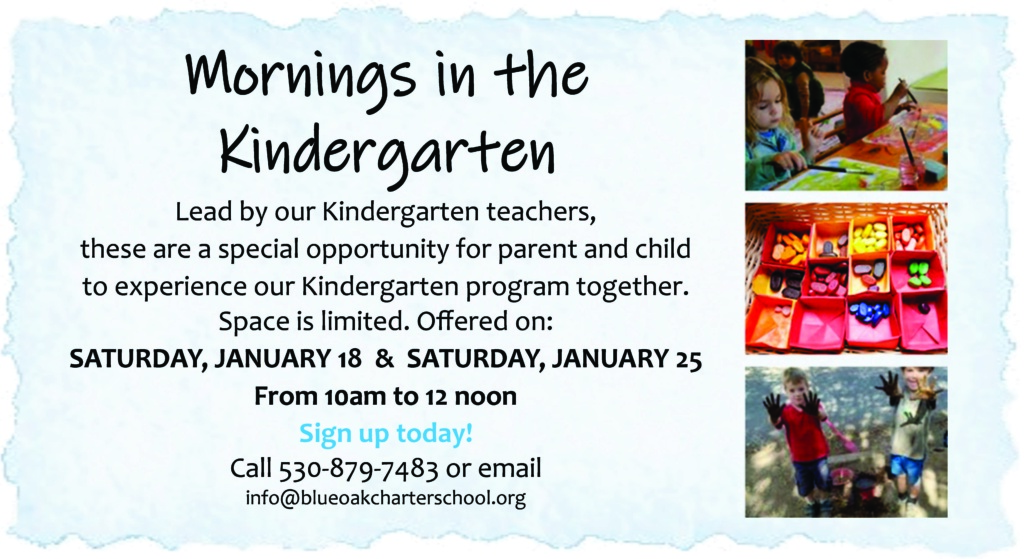 Join us to feel what it's like to spend a morning in a Waldorf Inspired Kindergarten. This is an opportunity for you and your child to come together; have a shared experience and to meet two of our current Kindergarten teachers.
We currently have opening for next year's Kindergarten.
Please register ahead of time.
Space is limited.
Call 530-879-7483 or email
info@blueoakcharterschool.org
Academic concepts are taught implicitly in the Waldorf Kindergarten program. Oral telling of fairy tales and multicultural stories with rich, nuanced vocabulary immerse children in vivid oral speech; develop phonemic awareness, a sense of story sequence, character development, language development, comprehension capacities, concentration skills, and strengthen imagination and creativity. Foundational mathematical concepts are experienced through practical activities such as: setting the table, baking, ordering, sorting, and patterning natural materials, and counting classmates for attendance. Engaging singing games incorporate counting both forwards and backwards, patterning, relative positions, concepts of shapes, addition, subtraction, more than, less than, and equal to. During creative free play, children explore the physical properties of objects, such as: mass, density, gravity, balance, and leverage through active use and observation of natural open-ended play objects. Problem-solving, sharing, taking, turns, and self-regulation are all capacities cultivated during play time. Just as a child lives in a rhythmical life of waking and sleeping, kindergarten provides the young child with a predictable rhythm for daily and weekly activities. Throughout the week, the kindergarten schedule includes: creative and open-ended play using simple wooden toys, music and verses accompanied by movement and gestures, as well as, mesmerizing nature stories and fairy tales. Practical activities include: gardening, baking, sewing, chopping, washing and folding. Artistic activities include: coloring, painting, and seasonal crafts. Children in the kindergarten spend extended time in nature, allowing their imagination and creativity to develop at a natural pace, creating a foundation of a lifelong love of learning.